Wednesday, April 23rd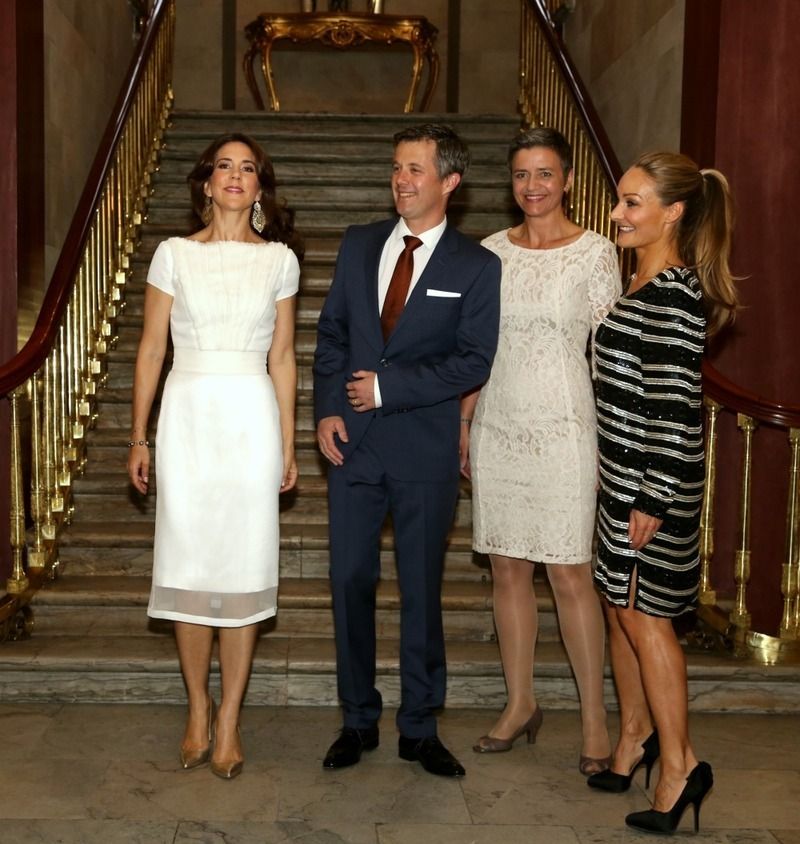 Photo @Agnés Colbert
Crown Prince Frederik and Crown Princess Mary hosted a dinner on behalf of Copenhagen Fashion Summit 2014 which took place at Frederik VIII's Palace, Amalienborg, in Copenhagen.
Copenhagen Fashion Summit
With over 1,200 participants Copenhagen Fashion Summit is the largest event on sustainable fashion in the world. The summit is a nonprofit event organized by Danish Fashion Institute on behalf of Nordic Fashion Association. In 2009 and 2012 has
Copenhagen Fashion Summit been held in Copenhagen, Denmark.
You find more information on the summit here.
Twice has Copenhagen hosted the world famous event, in 2009 and 2012 but this year was a little different because on behalf of the summit hosted Frederik and Mary a dinner in their home at Frederik VIII's Palace, Amalienborg, for prominent figures for sustainable fashion also attending Copenhagen Fashion Summit 2014 the following day. With a huge smile on their faces, welcomed the Crown Prince Couple all the special invited guests which took place in a beautifully decorated room with matching walls and curtains such as gilded wall decorations. A room that is a future King and Queen worthy. Two of the most prominent people who attended this special dinner was Economy- and Interior Minister Margaret Vestager (the women in the white lace dress) and of course Eva Kruse, CEO of Danish Fashion Institute planning the summit on behalf of Nordic Fashion Association. I sensed a good atmosphere alongs the four of them. Before the dinner was about to begin, the attendance photographers and journalists got pictures like Agnés Colbert did. I'm so amazed by her pictures, they are just lovely! Luckily I'm in that situation I am allowed to share them with all of you. But please remember, if you would like to share them as well ask for her permission. Thanks. Standing in the middle of three beautiful women, Frederik took the next step and was soon headed to the room where the dinner was about to be held.


Photo @Angés Colbert
I was truly amazed when I saw the first pictures of Mary in her new, incredible dress! So simple and feminine at the same time. To me it is a masterpiece made by one great Danish designer by the name
David Andersen
. The information on this new white dress, I have from
Princessesblog76.
I'm already loving it! Just look at the remarkable details at front and the two length skirt. Looks really polish on her. Then I like how she matched it with golden accessories; earrings and a pair of
Manolo Blahnik
pumps. A lovely way to handle a dinner outfit. I'm pretty sure this outfit inspired you as much as it did to me. The good thing about a white dress like this, is that you can match it with every single colour or print you like. Mary chose to keep it simple with a pair of statement golden earrings found by
Else Maria
as a pair of traditional piece of jewellery in Portugal, featuring the most stunning filigree. If this isn't a winner, I don't know what would. Else Maria told me in her mail to google
brincos rainha,
you should try it yourself. You get so many fantastic pictures of beautiful earrings. As you see, my first guess was wrong, sorry about that. As the only jewellery besides the earrings, she wore a black Tahitian pearl bracelet from
Marianne Dulong
. Somethings simplicity says it all. About her hair, I most say I am a huge huge fan. Looks so perfect, especially with the light natural makeup. Can't say anything than, I'm completely impressed by her look.
Dress: David Andersen